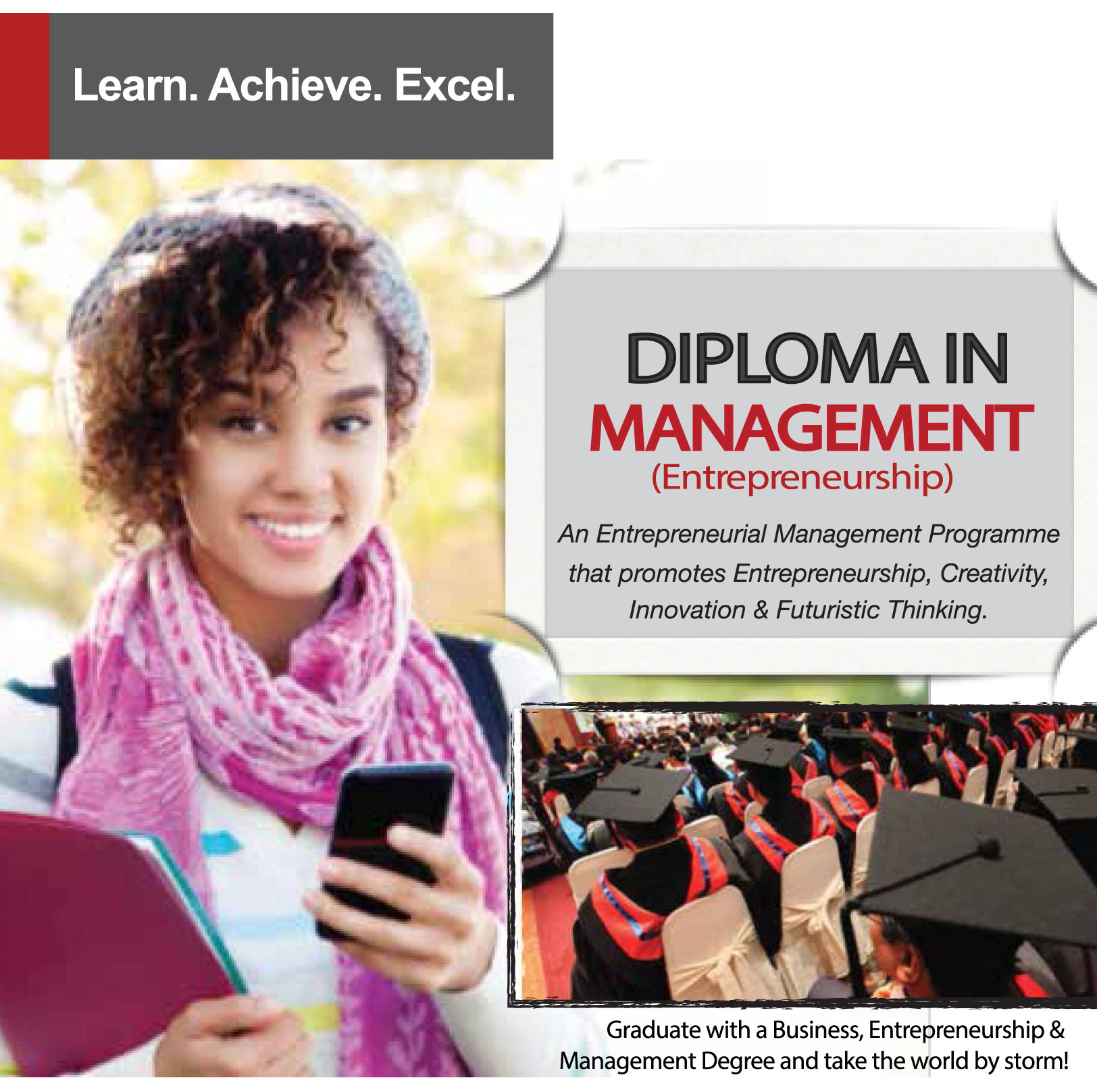 INTRODUCTION
This programme has been specially designed by Entrepreneurs, Corporate Intrapreneurs, Academicians & Professionals from the various relevant industries in response to
a nationwide need to expand entrepreneurship development activities.
PROGRAMME OBJECTIVES
The Diploma in Management has been designed to provide students with a wide, overall view of the business world, with some degree of specialisation in entrepreneurial management. On graduating from this programme, students will be fully equipped to carry out managerial duties effectively in their respective organisations. It provides a highly recognised qualification which can be used for self-employment or graduates can even pursue an executive career in business and entrepreneurial management.
The Diploma equips students with understanding, knowledge & practical skills to meet the demands of an increasingly sophisticated business world.
HOW WOULD YOU BENEFIT?
This course is also designed to develop:
• Entrepreneurial traits and motivation as well as the spirit of enterprise
• Decision-making capabilities required to set-up an entrepreneurial business venture
• Expertise to start and successfully manage an enterprise
SUMMARY OF PROGRAMME
Excel International College operates on a semester system. Each academic session consists of three long semesters, followed by one week of examination. To qualify for the Diploma, students are required to satisfy a minimum of six semesters. Within this period, they must complete a minimum number of credits specified by the programme.
Students are also required to achieve a minimum Cumulative Grade Point Average (CGPA) that is determined by the Academic Board. Students' entrepreneurial
project / internship achievements are continuously evaluated throughout the semester
CAREERS & PROGRESSION
This Diploma is suitable for those who wish to take up a graduate or middle management position. Graduates will be able to find work in a variety of jobs in the
business & management arena or they may even aspire to become very successful entrepreneurs.
Students will be equipped with the necessary skills and knowledge in order to carry out management duties effectively.
STUDY OPPORTUNITIES
BBA (Degree Completion Program) in Entrepreneurial Management or Business & Management.
ENTRY REQUIREMENTS
• Three (3) credits in SPM/ SPMV or GCE 'O' Levels
• Other equivalent qualifications with government's recognition
DURATION
• 3 years
• FINANCIAL ASSISTANCE
• PTPTN, EPF, Bank Loan
• Diploma in Management JPT reference #: JPT/BPP(K)1000-600/B2130 Jld.2 (12)
• Course name: Diploma in Management (R2/345/4/0758)
• Expiry date: 11 February 2025
At Excel, there is something for anyone interested in making their passion become a reality!