Excel International College has a One- Stop Academic Pathway which takes you all the way from Diploma Programme after SPM to your PhD. Excel offers you Exciting New Courses & Student Experiences, as well as provides guidance as to which course to choose based on your talents & future prospects. Courses include:
Entrepeneurship, Business & Management
Tourism & Hospitality Management
Accounting & Finance


We also offer specialist programmes for you to be certified in your interests:




At Excel, there is something for anyone interested in making their passion become a reality!




An Overview of Excel International College

Who We Are & What We Do: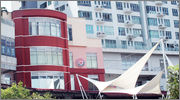 Excel International College City Campus
Founded in the 1980s, Excel International College of Training & Development (EIC) was among the first Private Management Colleges in Malaysia to offer hands-on Management and Vocational Programmes in Malaysia.
Today we offer Academic & Vocational Training Programmes such as Higher National Diplomas (approved by Ministry of Human Resources), Bachelor Degrees (BBA), Master Degrees (MBA) and Doctoral Degrees. Our commitment to educational excellence and our dedicated student services has made Excel International College one of the leading Entrepreneurship, Business & Management as well as Vocational Training Providers in Peninsular Malaysia.
Excel International College also offers one of the most relevant training curriculum available in our country. Created in co-operation with Business and Industry, our Training Programmes provide the skills and expertise that are high in demand normally seen in higher productivity of those that have attended our Training Programmes. Our Faculty of Trainers also hold high level positions within the fields they teach thus enabling them to share valuable real world experiences which can be immediately applied to one's career.
Every year Excel International College helps Supervisors, busy Executives and Professionals achieve their career and academic goals. Excel International College is also dedicated to the Educational and Training needs of working professionals and their employers. Our innovative format makes Higher Education and Training more accessible, efficient and relevant. Our acclaimed teaching and learning model recognizes the differences between younger students without experience and working professionals with practical knowledge. Our teaching model encourages students to interact and learn from each other. To help them succeed in their workplace the trainers emphasize real world relevance and the application of learning on the job.
At Excel International College, we are committed to:
Initiating new courses and offering qualifications linked to Lifelong Learning.
Exploring a wide range of teaching, learning and accreditation strategies.
Providing information and awareness of Lifelong Learning related activities and initiatives.
Promoting regional training collaboration that helps enhance local and regional economies.
All our intensive training and seminar programmes require students to work hard at mastering sophisticated concepts quickly. At the same time, it also provides an exciting learning environment that develops skills and expertise to their highest level. Our successful graduates are our constant testimonial that Excel International College is an Educational and Training Center that has worked well since the early 1980s.

At Excel International College, we are committed to provide high quality education and training to working adult students. Since our beginning in 1980s, we have grown from strength to strength due entirely to our success in providing professional, innovative and creative Educational and Training Solutions to our customers and clients. As our name suggest, Training and Development remains our core business until today.